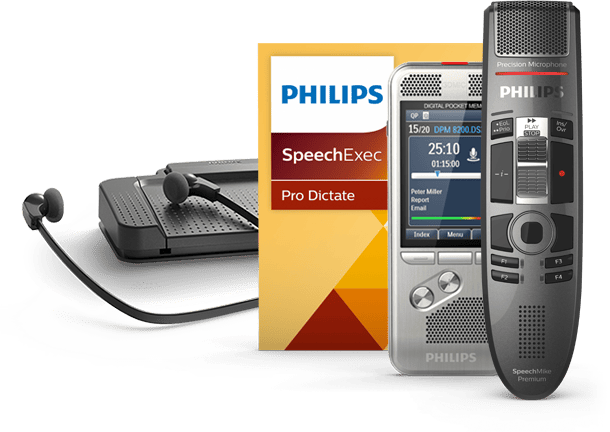 Global leader

in smart
voice solutions
Supplied and Supported

 by BBI Technologies

founded in 1967
---
BBI Technologies, Inc was founded in 1967. We started out solely as a dictation sales and service company. We have since transformed into a total document solutions company. However, we are still true to our roots, providing state of the art court recording systems and voice to text dictation to our customers across the state.
We believe in the power of simplicity. Our solutions are developed to improve your day-to-day working life. Our outstanding reputation for quality and reliability has kept us in the forefront of the professional dictation market. Philips is the leading solution provider for all speech-to-content needs, such as software, hardware, and services. Through our partnership, we are able to offer world class products combined with local support
SpeechLive
Web Dictation and Transcription Solution
Transcription Accessories
The PocketMemo Voice Recorder takes dictation to a new level. Breakthrough 3D Mic technology delivers best audio quality in any recording situation. Its robust yet lightweight stainless steel design offers perfect ergonomics for working over longer periods of time. Coupled with SpeechExec Pro software for efficient data management and a docking station for uploading your files, going from your voice to your text document has never been quicker. 
Philips SpeechOne Wireless Dictation Headset has been specially designed to match the needs of users who frequently use dictation or speech recognition to create documents. The premium decoupled microphone offers crystal-clear recordings, perfect for accurate transcriptions. Ultra-comfortable and ergonomic design, personalized wearing options and hygienic exchangeable cushions make the headset the perfect work companion in both hospitals and office
We offer custom-made workflow solutions with integrated speech recognition for document creation. Dictate using the best available microphones on the market, have your speech recognized and immediately routed to the correct team member for further processing. No more copy, paste. Our workflow solutions provide real-time monitoring of every step in the document creation process. 
SpeechExec Pro Dictation and Transcription Software links authors and transcriptionists. It facilitates communication, the setup of individual workflow settings and organizational flexibility to help save time and resources. Authors can record directly into the software using a dictation microphone and transcriptionists can playback and conveniently transcribe these files using a foot control.
Optimize your workflow with a professional document-creation solution
The Transcription Set is a digital document creation solution specifically designed to make transcription easy and intuitive. The ergonomic accessories and the innovative SpeechExec Pro workflow software let you manage your jobs easily.
Exceptional sound, more likes for your videos
Exceptional videos require exceptional sound. Bring your videos to the next level with superior audio recording. Use the Philips VoiceTracer as an external microphone and create stunningly crisp sound for your footage. You can even attach the recorder directly to your DSLR using the included hot shoe mount and use the windscreen when recording outside
.